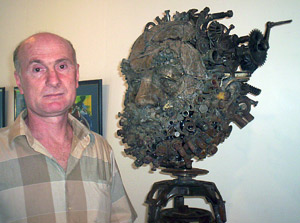 Alekyan Ara (1959)
1959 – born in Vedi, Armenia.
1979 – graduated from Fine Arts College after P.Terlemezyan.
1985 – graduated from Yerevan State Academy of Fine Arts /dep.of sculpture/.
1986-89 – studied at the Russian Academy of Arts /Yerevan branch/.
1988 – member of Artists' Union of Armenia.
2002 – his sculpture "Rhino" has been considered the best sculpture of last 10 years and awarded "Vahagn" prize
Exhibitions
1983-2004 – multiple exhibitions in Armenia and Russia.
Exhibitions in Lebanon (1999), Georgia (2005), Belgium (2006), Germany and France (2011).
The works are kept in the Modern Art Museum (Yerevan), private collections in Armenia and abroad.