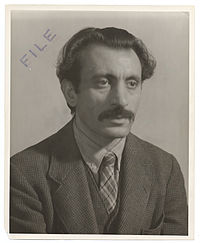 Arshile Gorky (Vostanik Adoyan) (1904-1948)
1904 - born in the village of Khorkom, Eastern Armenia.
1910 - moves to the city of Van.
1915 - official beginning of massacres and mass deportation of Armenians. The Adoians evacuate from Van and reach Yerevan.
1920 - moved to the USA.
1924 - earliest known painting under the pseudonym Archile. After 1932 - Arshile Gorky.
1925 - enrolls at the National Academy of Design. Leaves the Academy after one month.
Enters the Grand Central School of Art.
1934 - becomes a member of Artists` Union.
1948 - neck broken and the painting arm immobilized in an automobile accident.
On July 21, commits suicide by hanging in Sherman studio.
Since 1934 - more than 80 personal exhibitions in numerous cities of the USA and Europe. During his life his works were bought by the Whitney Museum of American Art and the Julien Levi Gallery in New York.