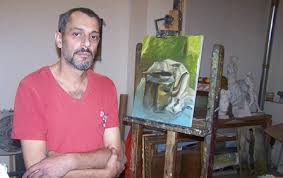 Asatryan Tigran (1968)
1968 – born in Yerevan.
1979-1982 – studied at H.Kojoyan Art school.
1982-1983 – studied at P.Terlemezian Art Institute.
1987-1993 – studied and graduated with gold medal from Yerevan State Academy of Fine Arts and Theatre.
1997 – became one of the founders and member of "Realist Painters Union" of Yerevan.
Exhibitions
1995-2003 - multiple exhibitions in Armenia, Russia, Canada, Egypt, Lebanon, Germany, Qatar.
2002 - exhibition by the invitation of His Highness Sheikh Ali-Ben Abdulla Theni-El in Doha, (Qatar).
2009-2010 – exhibitions in New York, Los Angeles.