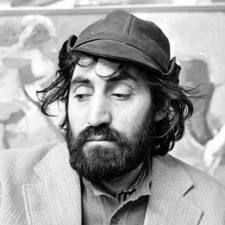 Avetisyan Minas (1928-1975)
1928 – born in Jajur village, Armenia.
1947-1952 – studied at the Art College named after P.Terlemezian, Yerevan.
1952-1954 – studied at Institute of Fine Arts and Drama, Yerevan.
1954 1960 –studied in Leningrad Art Academy, in the studios of A. Zaytsev,
L. Khudyakov, B. Yoganson.
Since1962 – worked as a stage-designer in the ballets "Bolero," "Antuni," "Gayane," "Sako from Lori," opera "Almast" etc.
Since 1968 –Honored artist of Armenia.
1973 - elected a member of the Presidium of Armenian Artists' Union.
1975 – tragically died in Yerevan.
Posthumously was rewarded with the State Prize of Armenia.
1980 – his works were rewarded with "Martiros Sarian" award.
A great number of the artist's works were lost during a fire in his studio in 1972.
The works are kept in the "Museum-Studio" of Minas Avetissian (Yerevan), Modern Art Museum (Yerevan), National Gallery of Armenia (Yerevan), State Tretyakov Gallery (Moscow), Museum of Oriental Art (Moscow), many private collections in Armenia, Russia and other countries.