"BARDZR ARVEST" fine arts center jointly with " Armenian Collectors union"
for the first time presents the
"Selection"
exhibition
September 5-29 Komitas museum-institute 2017|
October 1 - December 2 "Bardzr arvest" center, "Shedevr" gallery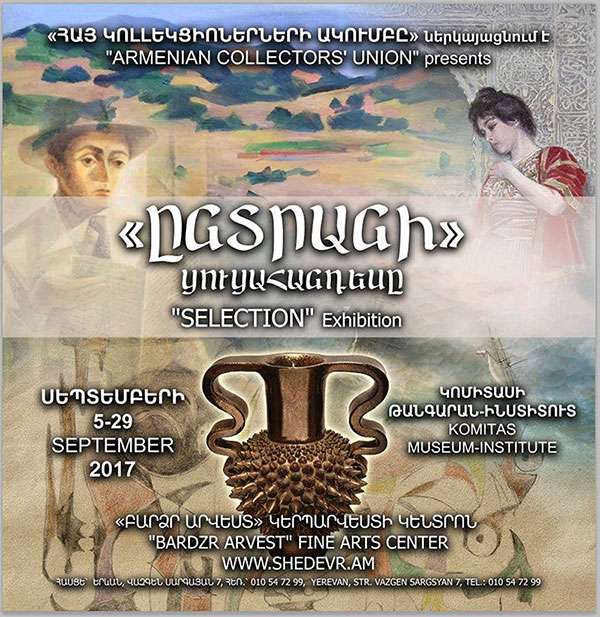 "Armenian Collectors' platform. The works presented to the exhibition are exclusively from private collections. The collection of the Armenian painters is shown with the eyes of the Armenian collectors from the second half of the 19th century to the beginning of the 21st century at the Komitas Museum-Institute. 24 Armenian classical and modern masters are presented: Hovhannes Aivazovsky, Gevorg Bashinjaghyan, Vardges Surenyants, Vardan Makhokhyan, Yeghishe Tadevosyan, Vahram Gaifejyan, Martiros Saryan, Hovhannes Alkhazyan, Yervand Kochar, Arshile Gorky, Leon Tutundjian, Dmitri Nalbandyan, Carzou, Grigor Petikyan, Aramik, Jean Jansem, Hakob Hakobyan, Minas Avetisyan, Ashot Hovhannisyan, Hrachya Hakobyan, Seiran Khatlamadjyan, Robert Elibekyan, Laura Avetisyan, Varuzhan Vardanyan, Hamlet Hovsepyan, Aivaz Avoyan, Kiki, Tigran Asatryan, Suren Hambardzumyan, 30 works.


From September 5 to 29, the audience has an exceptional opportunity to see an artistic fragment of Armenian art , which reflects the diversity of the latter and the depth of the Armenian aesthetics and content.

Auction will take place on December 2, at 5 pm

In the "Shedevr" gallery



Photo

Media about us
http://erit.am/news/hy/77647
https://news.am/arm/news/408252.html

http://www.gov.am/am/news/item/13139/

http://armedu.am/index.php/am/news/stream/83
https://www.youtube.com/watch?v=SWtXNxO-N3E

https://www.youtube.com/watch?v=hmGUptxM4WA
http://shamshyan.com/hy/article/2017/09/05/1076559/

http://shamshyan.com/hy/article/2017/09/05/1076559/

http://yerkirmedia.am/culture/hay-nkarichner-cucahandes/
https://armenpress.am/arm/news/904227/hh-varchapety-nerka-e-gtnvel-yntrani-khoragrov-cucahandesi.html

http://hraparak.am/?p=155260&l=am/varchapety+nerka+e+gtnvel+yntrani+xoragrov+cucahandesi+bacmany
https://www.aysor.am/am/news/2017/09/05/%D5%BE%D5%A1%D6%80%D5%B9%D5%A1%D5%BA%D5%A5%D5%BF-%D4%B8%D5%B6%D5%BF%D6%80%D5%A1%D5%B6%D5%AB/1306713
https://armday.am/?p=26523&l=am%2Fkaren%20karapetyany%20masnakcel%20e%20yntrani%20cucahandesi%20bacmany
http://imedia.am/2017/09/05/%D5%BE%D5%A1%D6%80%D5%B9%D5%A1%D5%BA%D5%A5%D5%BF%D5%A8-%D5%B6%D5%A5%D6%80%D5%AF%D5%A1-%D5%A7-%D5%A3%D5%BF%D5%B6%D5%BE%D5%A5%D5%AC-%D5%A8%D5%B6%D5%BF%D6%80%D5%A1%D5%B6%D5%AB-%D5%AD%D5%B8/

http://news.1tv.am/hy/2017/09/05/%D4%B8%D5%B6%D5%BF%D6%80%D5%A1%D5%B6%D5%AB-%D5%AD%D0%D5%A1%D5%A3%D6%80%D5%B8%D5%BE-%D6%81%D5%B8%D6%82%D6%81%D5%A1%D5%B0%D5%A1%D5%B6%D5%A4%D5%A5%D5%BD-%D4%BF%D5%B8%D5%B4%D5%AB%D5%BF%D5%A1%D5%BD%D5%AB-%D5%A9%D5%A1%D5%B6%D5%A3%D5%A1%D6%80%D5%A1%D5%B6-%D5%AB%D5%B6%D5%BD%D5%BF%D5%AB%D5%BF%D5%B8%D6%82%D5%BF%D5%B8%D6%82%D5%B4/694935%B8%D6%8